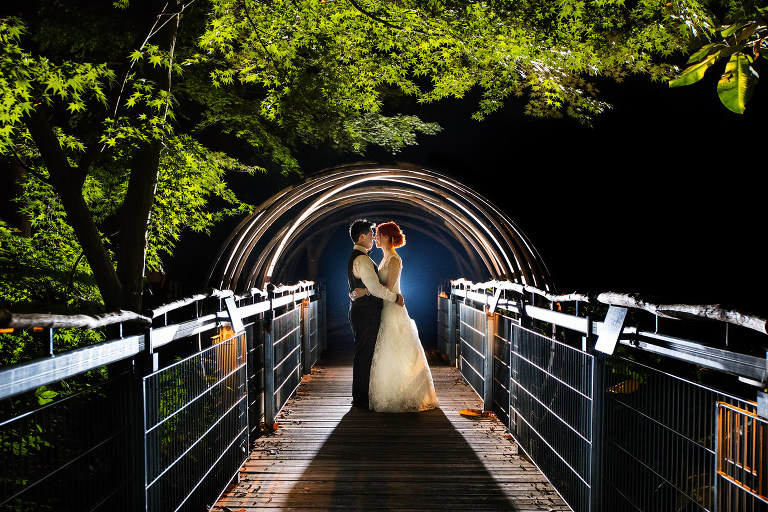 I knew from the moment I spoke with Robin on the phone last year that she was different. Different in that she has no inhibitions on expressing herself, her emotions, her real feelings. Robin was easy to connect with and we were an instant match! When I met Tony and her together, I quickly realized that he complimented her in every way and they, too, were a perfect match. So it is my pleasure to present to you my favorite photographs from their Morris Arboretum wedding this past October in Philadelphia, PA.
Here is their story, as told by Robin and Tony….
How did you meet?
T: I had invited her best friend at the time to a house warming party and she had asked if she could bring Robin. Naturally as an abiding host, I was more than welcome to have her. We met briefly, but I was smitten with her the rest of the night. I don't think she paid much attention to me at all!
R: I just happened to have flown in that night for a hometown visit around the holidays, and when my friend picked me up at the airport, she asked if I had wanted to go to her friend's housewarming party. We got there pretty late, and I was jet-lagged, so I only had the chance to say hello and good-bye to Tony the whole time I was there! By the next day or two, we ended up connecting on Facebook and exchanging numbers – and spent every day together since!
The Proposal:
T: I proposed to her at Denver Botanical Gardens, in the Japanese section at a gazebo by the lake. It was funny because I was wearing shorts and the ring was bulky and I had a lot of trouble pulling the ring box out of my pocket. Not long after she said yes, it started hailing so hard! Right after we had celebratory pizza in downtown Denver.
R: To celebrate our 5 year anniversary, we went on vaca to Denver in June, 2016. On our third or fourth day, we first went to the zoo and walked around there all day and then Tony wanted to fit in going to the Botanical Gardens after…which would have been another whole day in itself, so I kind of guessed something was up! It was funny because as soon as we got to the Botanical Garden entrance, we saw a massively dark storm cloud come out of nowhere (wasn't even in the forecast that day)….so, halfway through our walk, he was determined to make it to the Japanese gardens before it started to rain. I could see his mood change and get intently focused on trying to get to this specific area, so I had an idea of what was about to go down. Once we finally found the special gazebo he was looking for, we stopped under it, as it began to drizzle….and then he popped the question! While he was struggle buss-ing to get the ring out of his pocket, we were laughing, and I even said "of, course!", before he even asked me the question! After I said "of course, yes", for the second time….our two best friends, from back home, jumped out of the bushes and surprised me! Within 3-5 minutes it started to severely downpour mixed with dime sized hail – out of nowhere! It must've been a good omen because it rained the whole day before our wedding and then stayed dry on our wedding day, until we got back at midnight.
What were some of your favorite moments from your wedding day?
T: Obviously the ceremony; it was absolutely beautiful. Everyone that helped or took part did such a great job helping to make it all happen. The reception was fantastic. I loved seeing everyone having a great time. The Out on a Limb tree house area was also spectacular, and one of the things that had us sold on the Arboretum.
R: My favorite part of the day was our First Look, because I finally got to see Tony for the first time that day. All morning, everything felt like chaos, until I finally had the chance to be near him, and then everything else fell into place. I also enjoyed the moments before the ceremony, where no one was around us, or the tent area, so I had a chance to take a minute to look at everything set-up and undisturbed before all the partying began.
What's next on your calendar as a couple?
T: Right now, she is getting ready to be a bridesmaid for her best friend's wedding. We plan on doing our honeymoon this year and her bracelet/necklace business has been pretty steady.
R: Since we have already been living together for years, we are looking forward to the next phases in life. Now that the wedding is over, we'd like to do some minor upgrades and additions to the house, like adding a garden, or, finally clean out the garage for a man/woman cave – Domestic life at it's finest! Ha! In addition to that, we look forward to having some dedicated honeymoon time, as we had to travel for Tony's work/mini vaca the day after our wedding, and haven't had a chance to catch up and schedule that in yet.