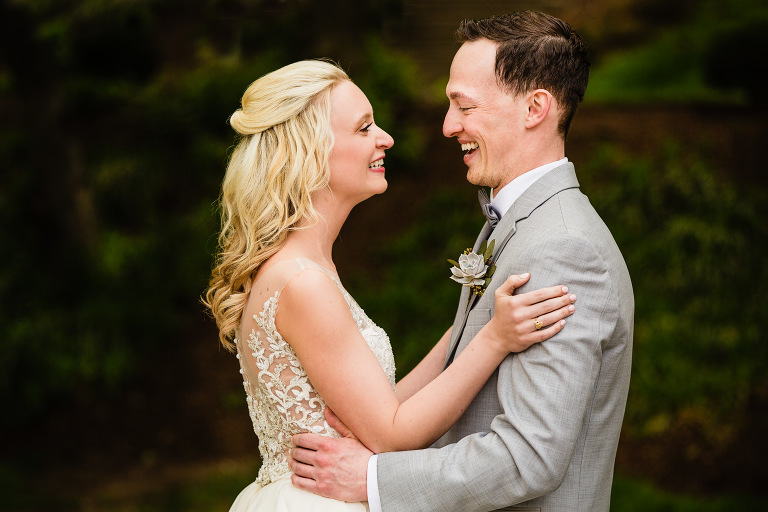 It's been months, but I'm so happy to blog a full wedding from earlier this year! This is another good one too. 🙂  Meghan and Dave were married in Philadelphia at JG Domestic, the super yummy restaurant on the first floor of the Cira Center. (Can you say fresh guacamole at cocktail hour!? Oh yeah, I sure can.)  There's something about Philly weddings… it's like they take it to 11!  This wedding rocked. The guests partied hard. And at the end of the day, this sweet couple started their life together.
Arielle and her team from Arielle Fera Events were amazing to work with, and the entire day was perfect. Congrats to Meghan and Dave! Here is their story, as told by Meghan:
How did you meet? We met through mutual friends at the end of college. Dave was visiting his best friends from growing up – Dan and Corey – and they happened to be Meg's best friends at Pitt! He came back for another visit a few months later, and inquired about seeing Meg. Corey texted Meg to ask if she was interested, she replied "probably not," and Corey said to Dave, "it's a go." We now always joke that Corey gave him the false confidence he needed to seal the deal, but in reality Meg already thought he was all that. 😉 The first night we spent any time together, we talked so long that we didn't realize it was already the next morning. Needless to say – we clicked instantly, and the rest was history.
The Proposal: Dave actually proposed twice! He first proposed in Portland, Maine when they went up for a weekend trip with Meg's cousin Kristin and her boyfriend Ty. Backstory: we had taken art classes together years ago, and Dave drew a picture of a lighthouse that our art teacher gave us, and his drawing is now hanging on our wall. When first planning our trip to Portland, we noticed the lighthouse he drew on the Portland visitor's website! We planned to visit the lighthouse while there, and take a picture in the same location the photo he drew was taken. Well, he had more than that photo in mind, and he proposed at the lighthouse! Meg was so shocked she accidentally said "thank you" instead of "yes." And Dave still makes fun of her for it. 🙂 A post-proposal beer fest made for the most perfect weekend! Unfortunately, Meg's engagement ring was stolen/lost a few months later… 5 months later, we had a family trip planned to Portland, Maine to go on a brewery tour (can you tell we like beer?). It was Meg's parents and brother, Meg's cousins, aunt and uncle and Dave. We all stopped by the Portland Headlight in the morning so that our family could see it, and Dave surprised us all and re-proposed in the rain. It was the sweetest moment ever, and we all cried (we still cry about it). Meg's parents and Dave colluded and had the exact setting from the old ring re-made, but put Meg's mom's engagement stone in it. It makes the ring and the place so much more special!
What's next on your calendar as a couple? We recently got back from Thailand for our honeymoon, which was such a great experience, and a fun trip! And we just added a sweet rescue pup, Sami to our family!! We're also looking forward to attending three more weddings this year!
How/why did you choose your venue? We chose JG Domestic because we thought it was the perfect representation of our personalities! We loved the mixture of the city skyline with the laid back and rustic decor (and atmosphere/staff).
What were some of your favorite moments from your wedding day? How do we choose?! We both loved the first moment we saw each other, and how it gave us all of the emotions. So much led up to that moment. One of Meg's favorite moments was waiting to go down the aisle with her Mom and Dad. But we have to say- the entire ceremony, and all the love we felt during it. It was so great that people were cheering as the bridal party started going down the aisle. Our great friend Rashida did such an amazing job officiating. After the ceremony- the bridal party all came behind the curtain and everyone was just hugging each other and so joyful! The bridal party entrances were also a favorite moment – we couldn't believe how quickly they pulled together the hilarious stunts. It was so much fun to follow that with our first dance- we took dance lessons and were really nervous, so the laughter took some of the nerves away. Meg's Dad playing the spoons was definitely a highlight.. people were chanting his name all night! We also loved all the speeches, and how much thought was put into them. The whole day just made us feel so lucky to be able to surround ourselves with such incredible friends and family. We couldn't have asked for a better day.
Any advice for future couples planning their weddings? Once the day comes, just relax and enjoy every little moment! Afterwards, you will be so happy you did!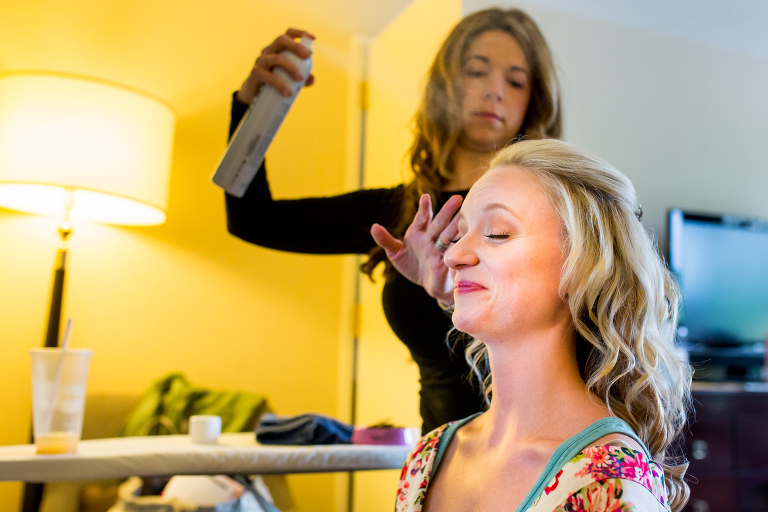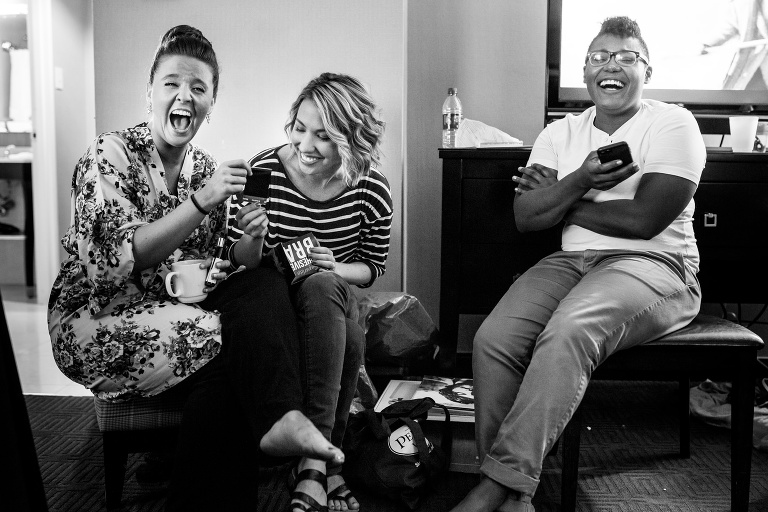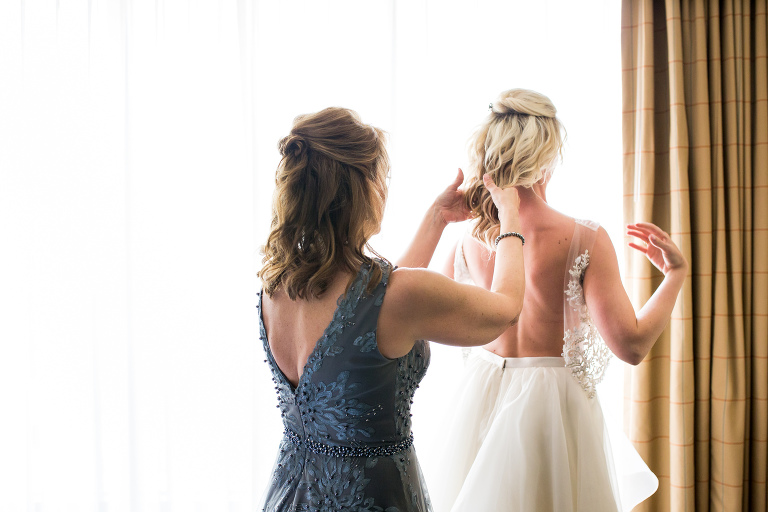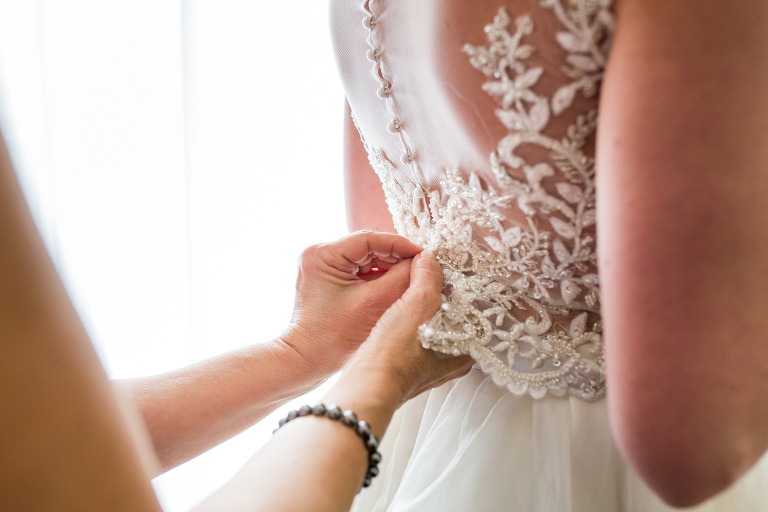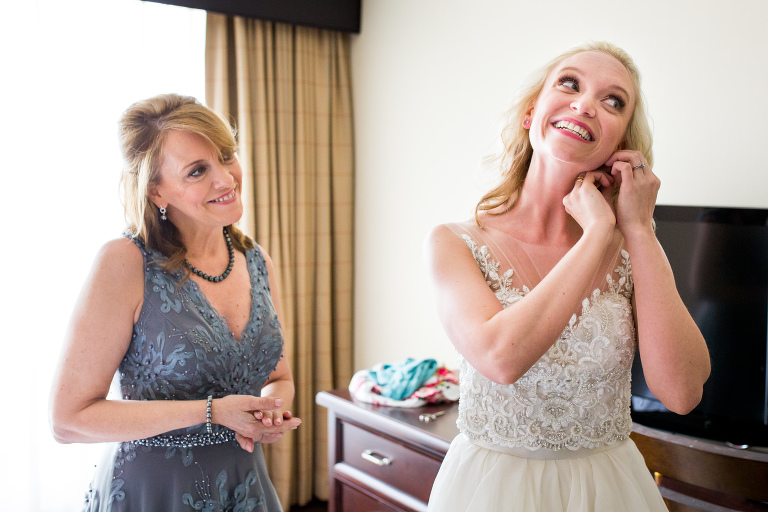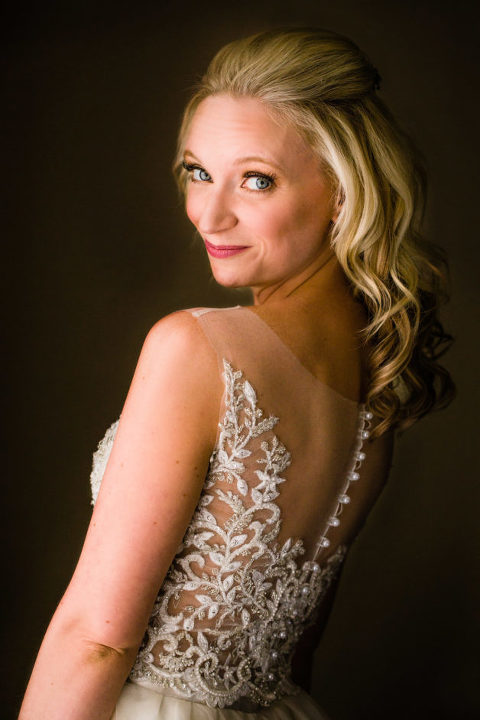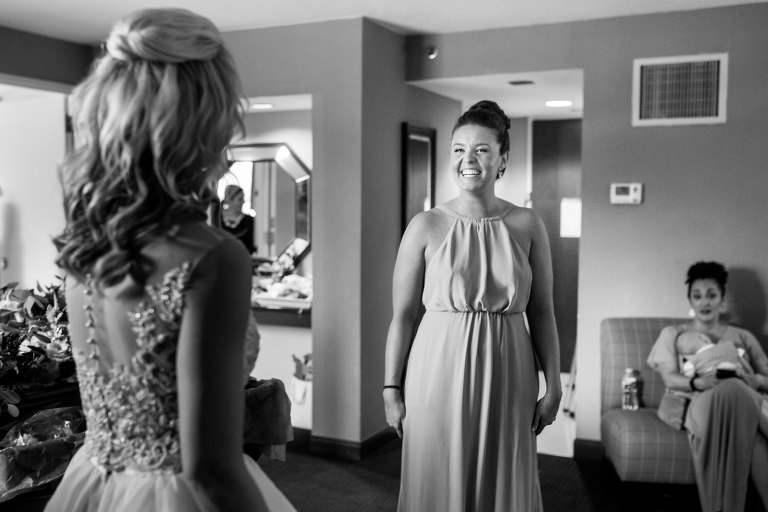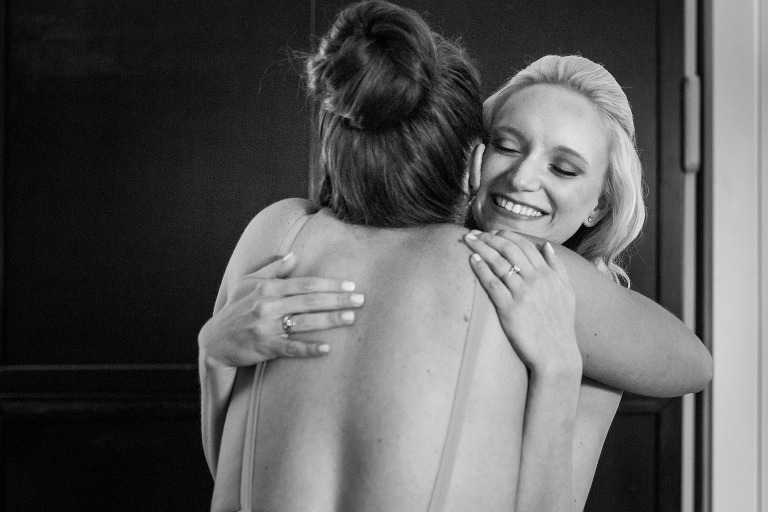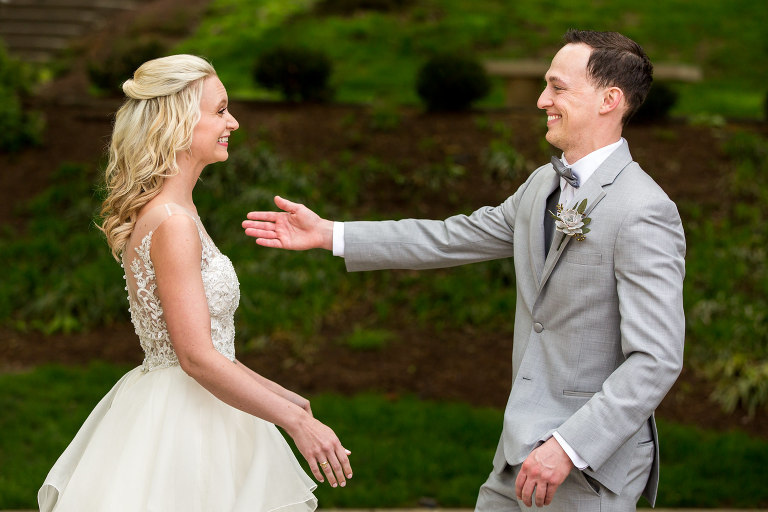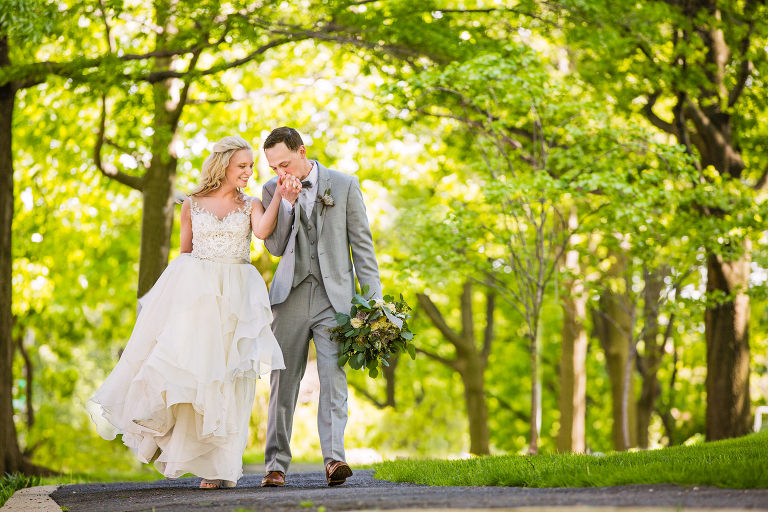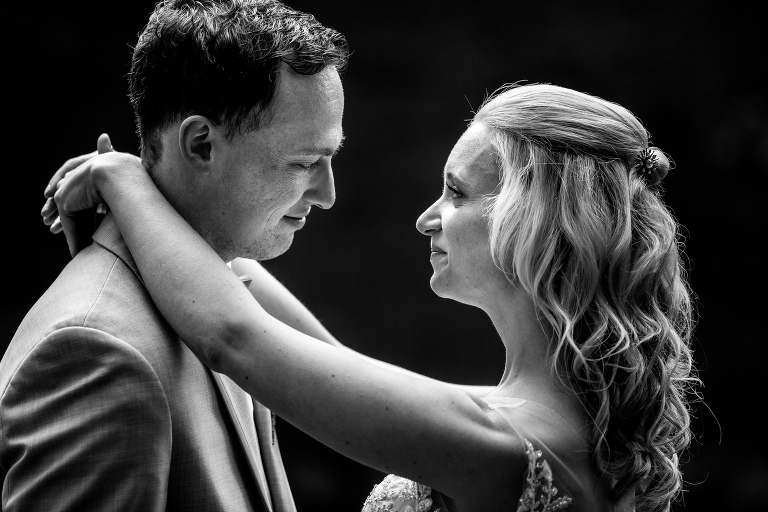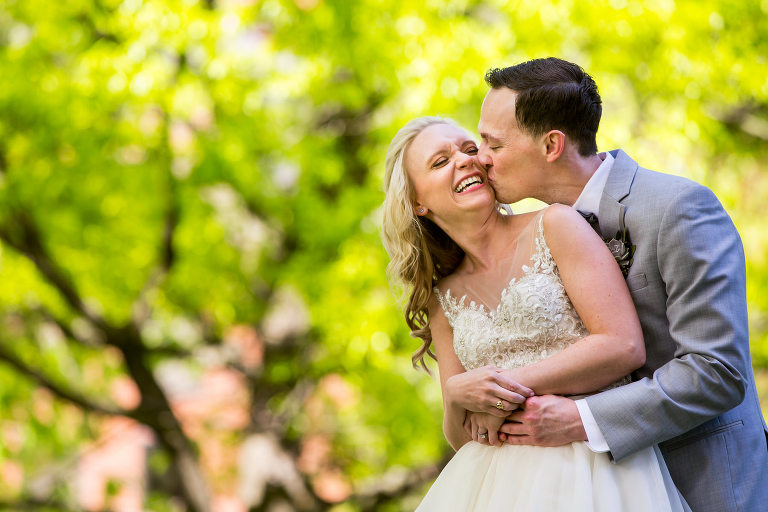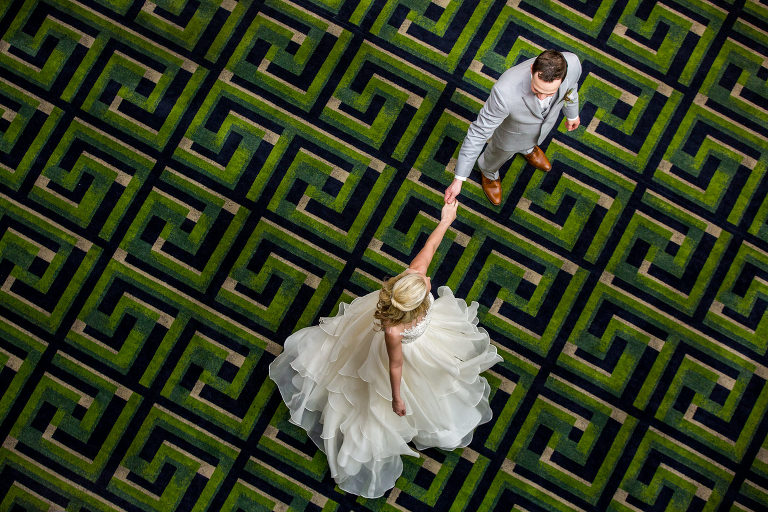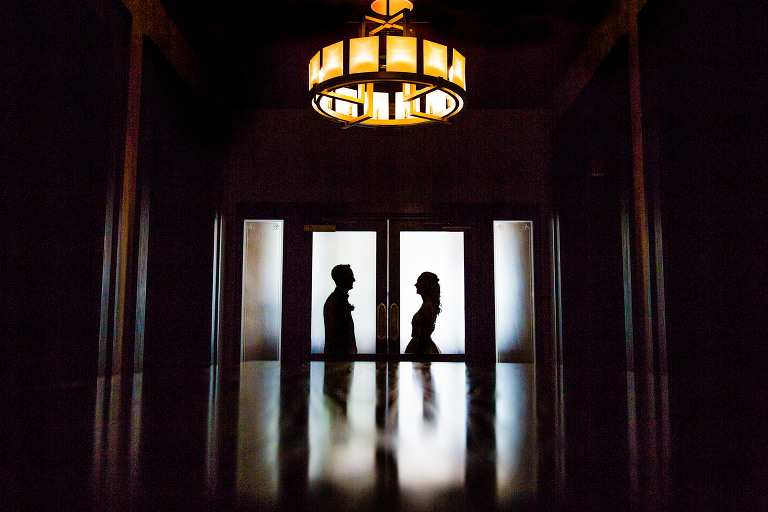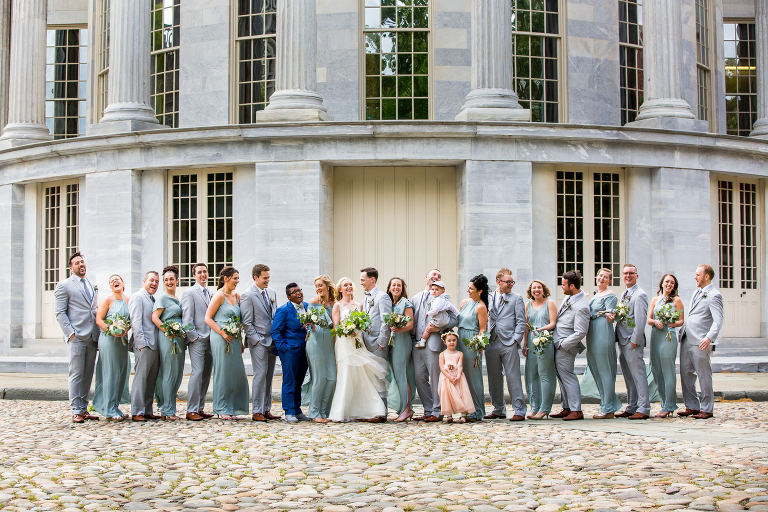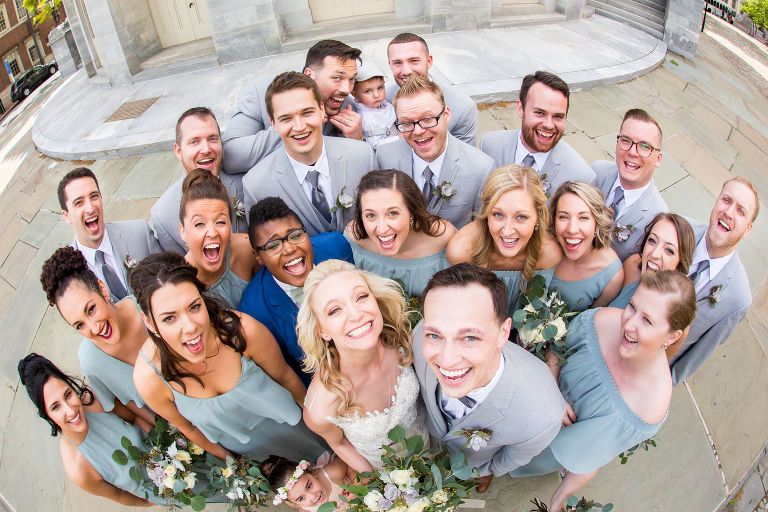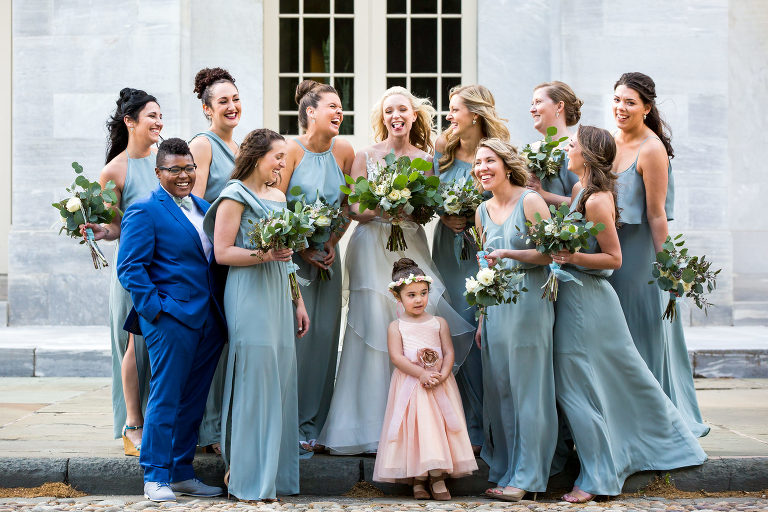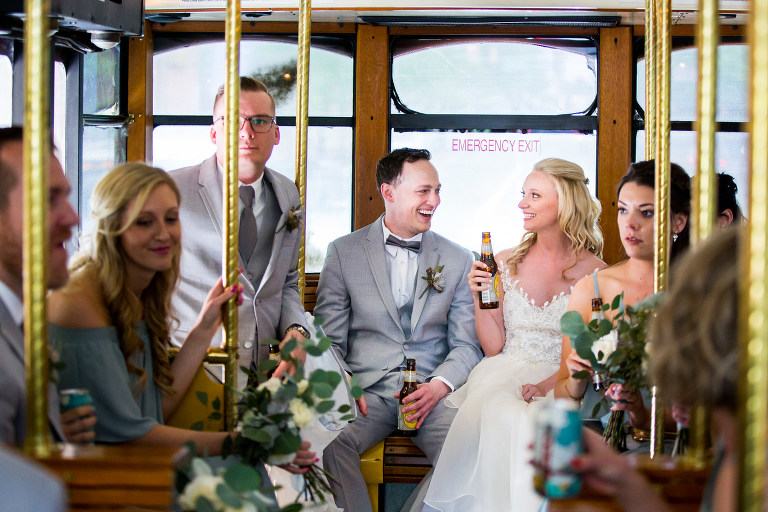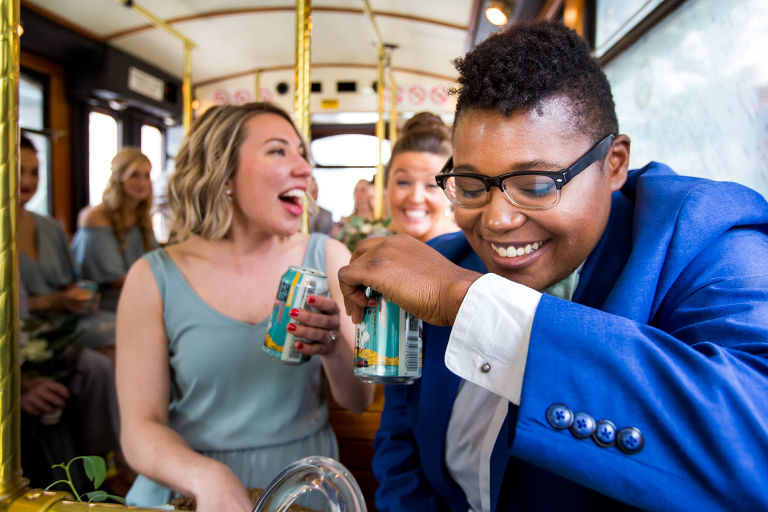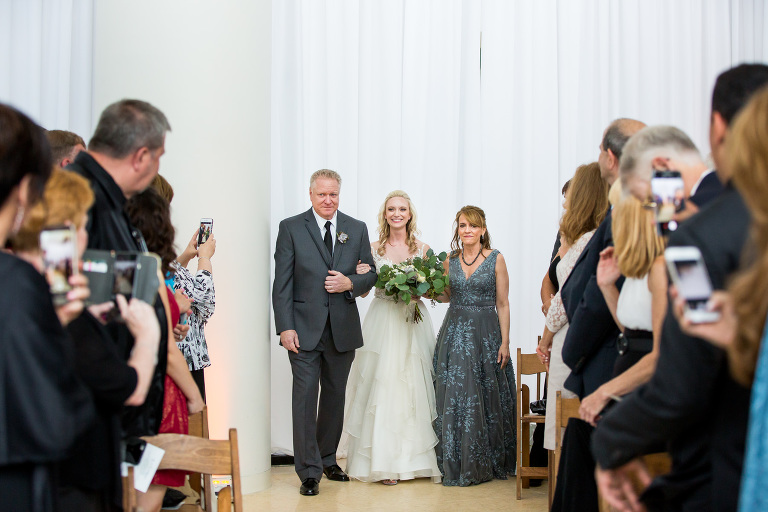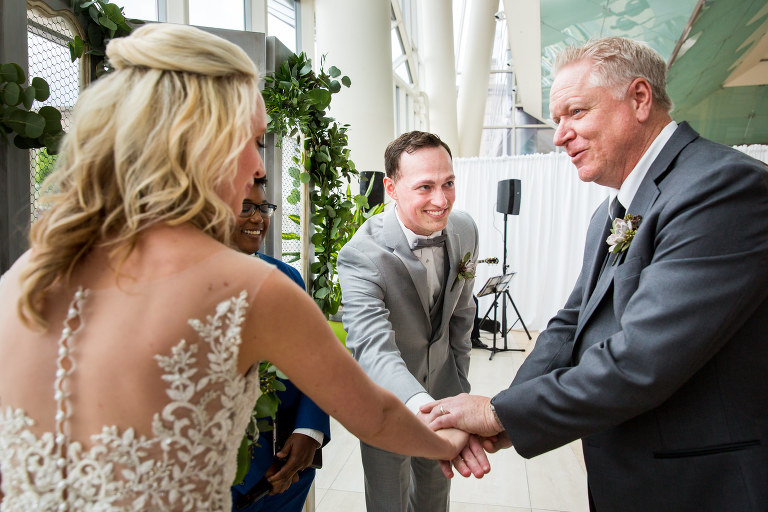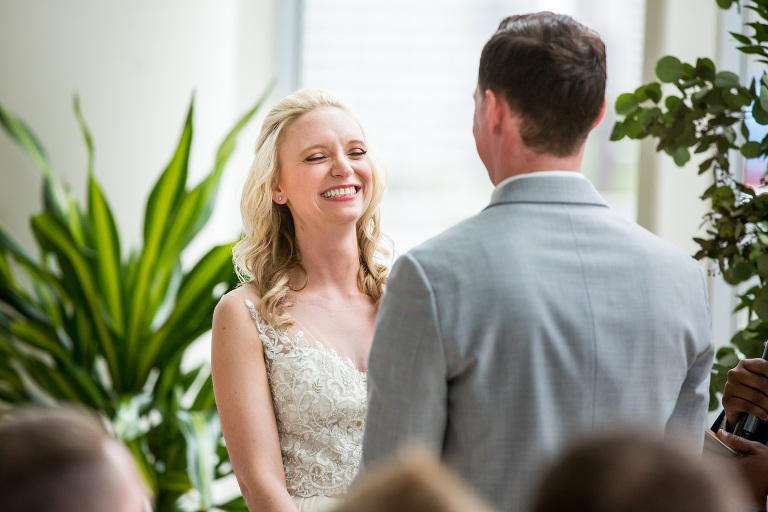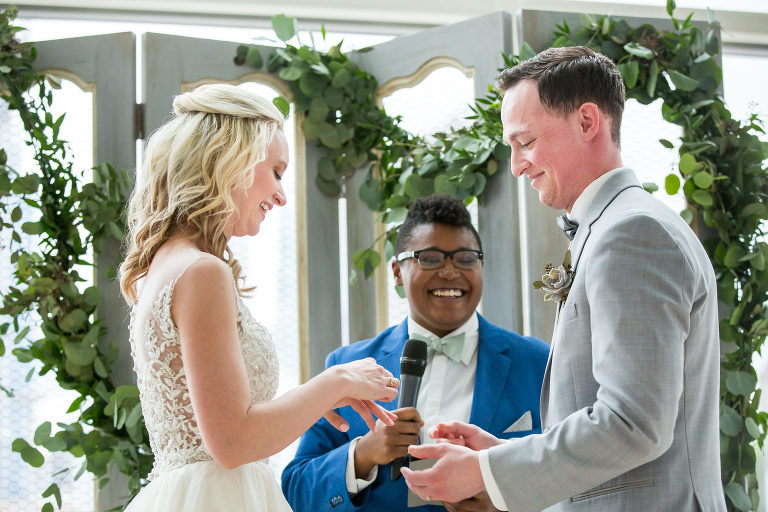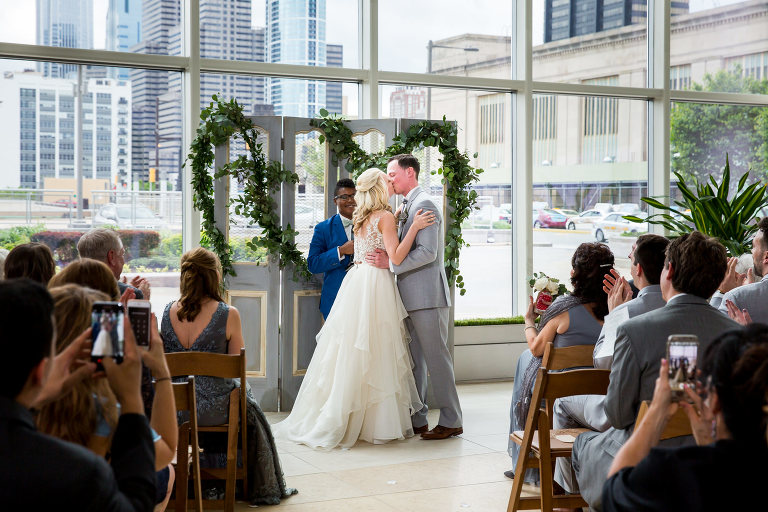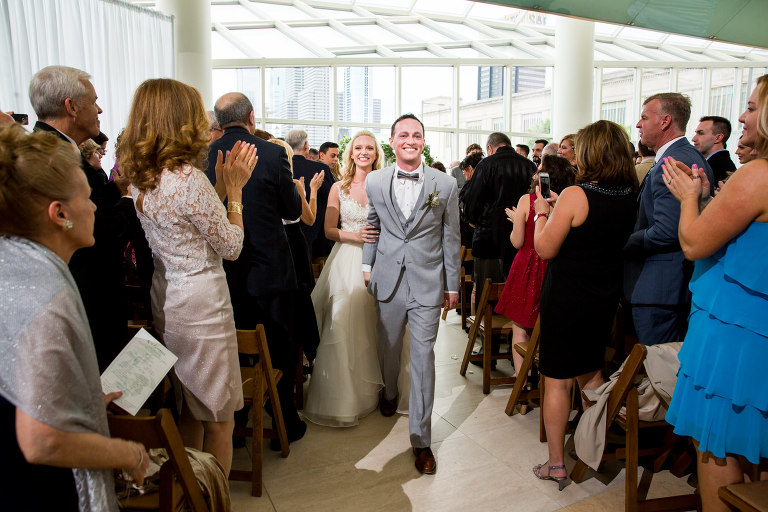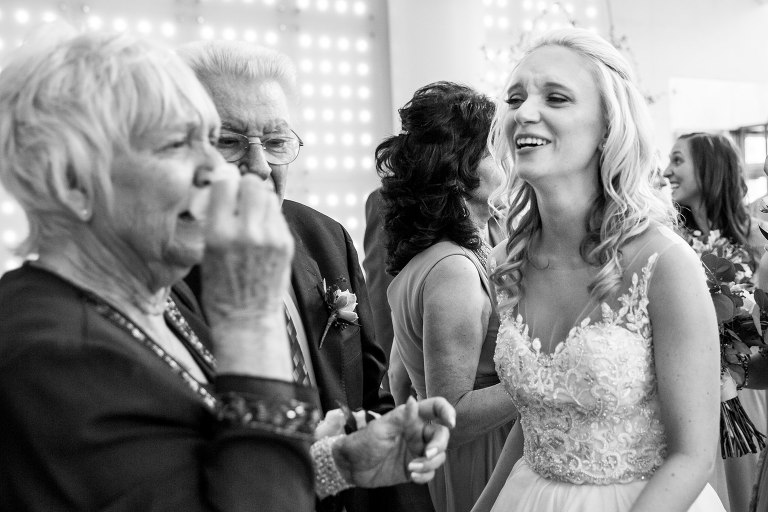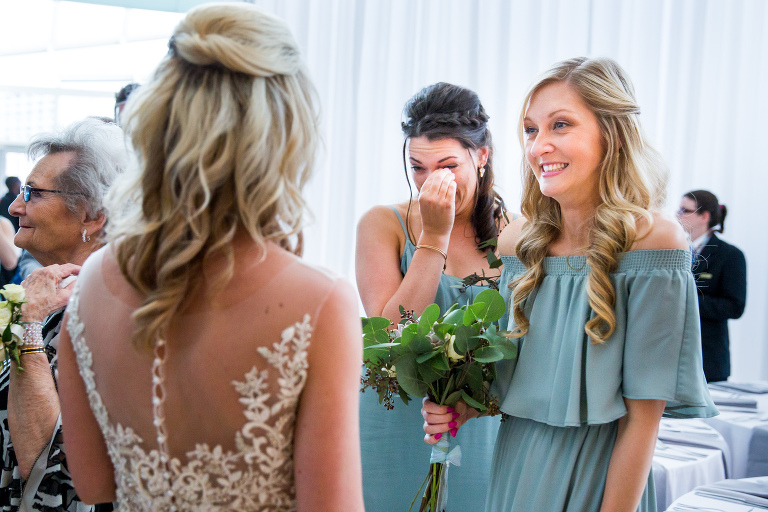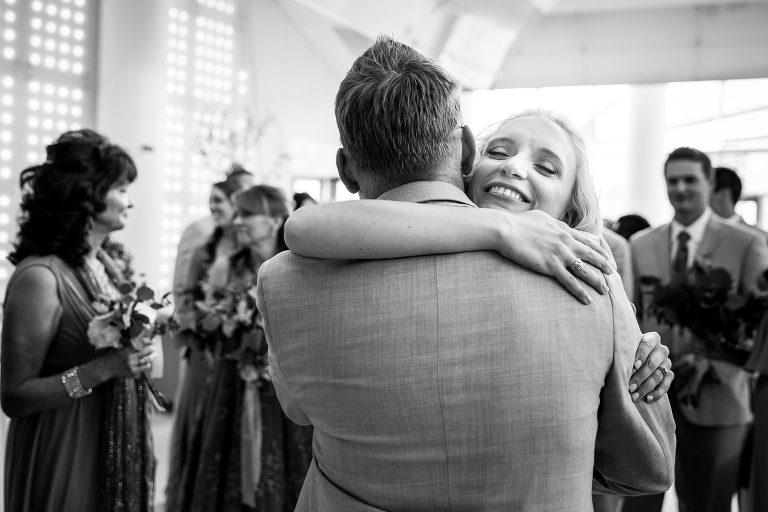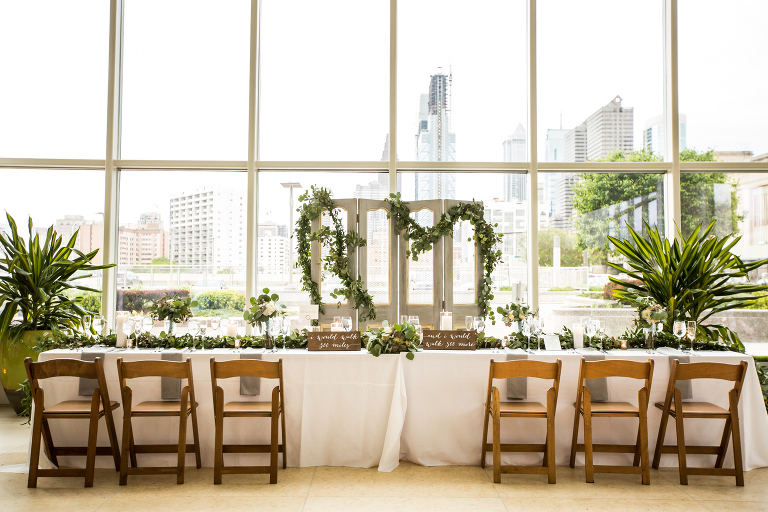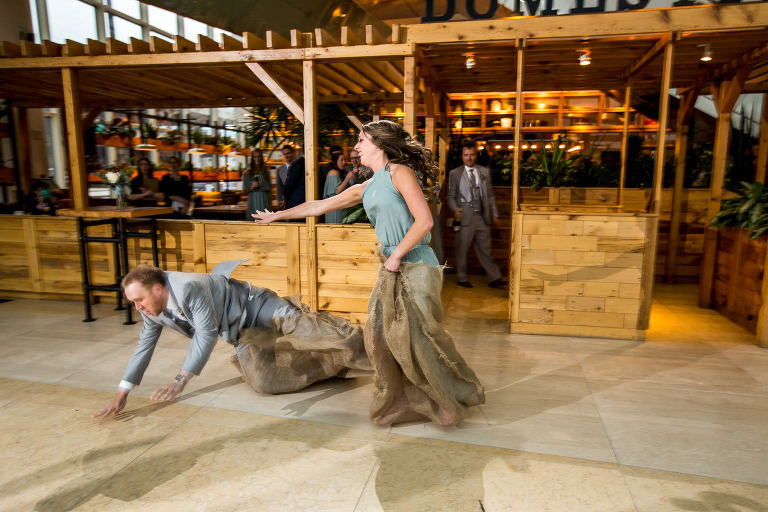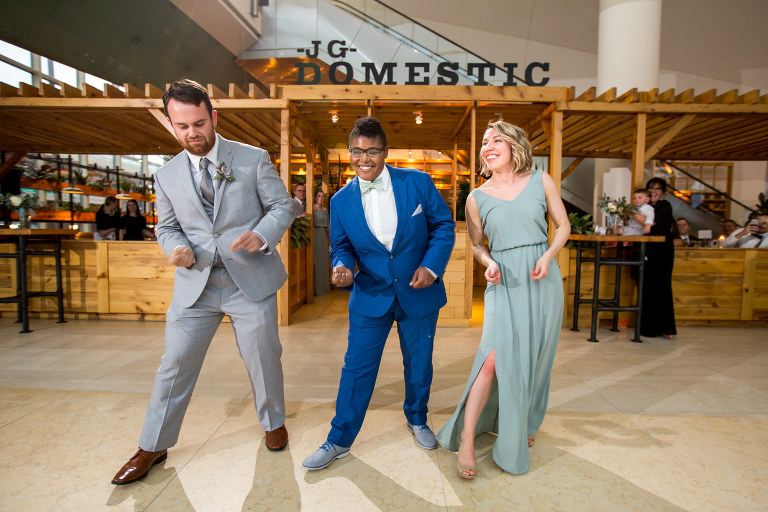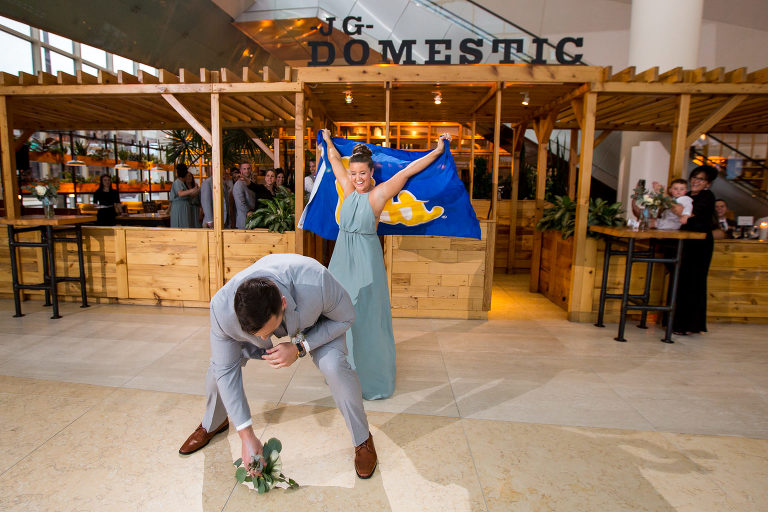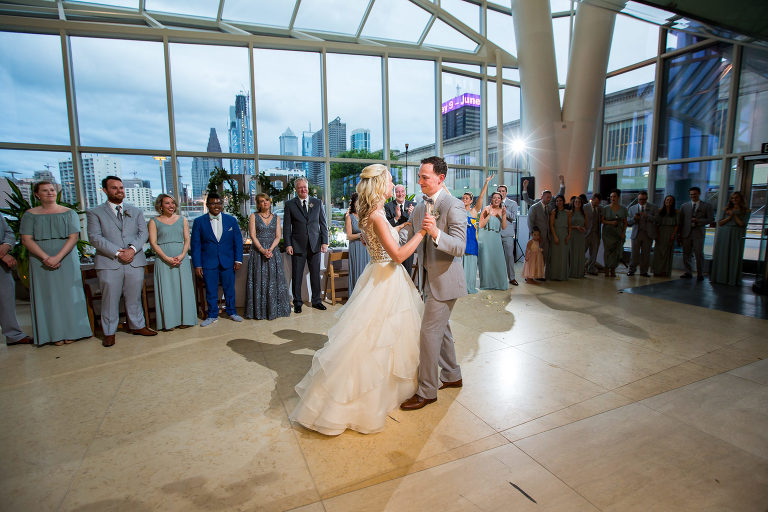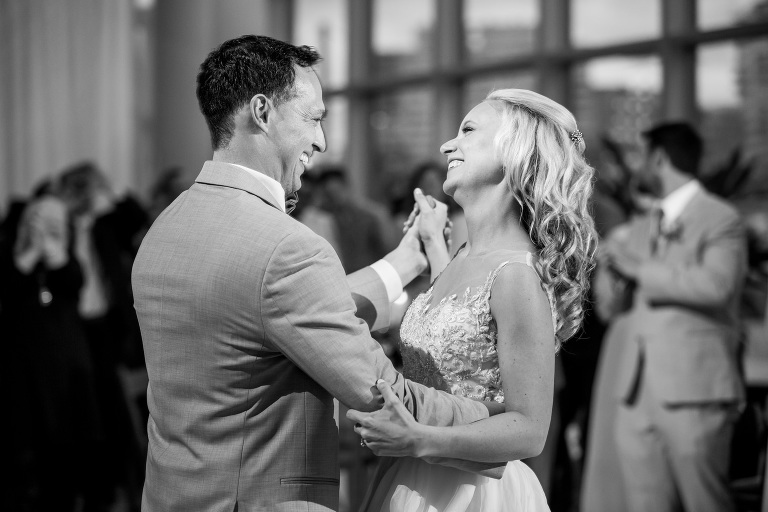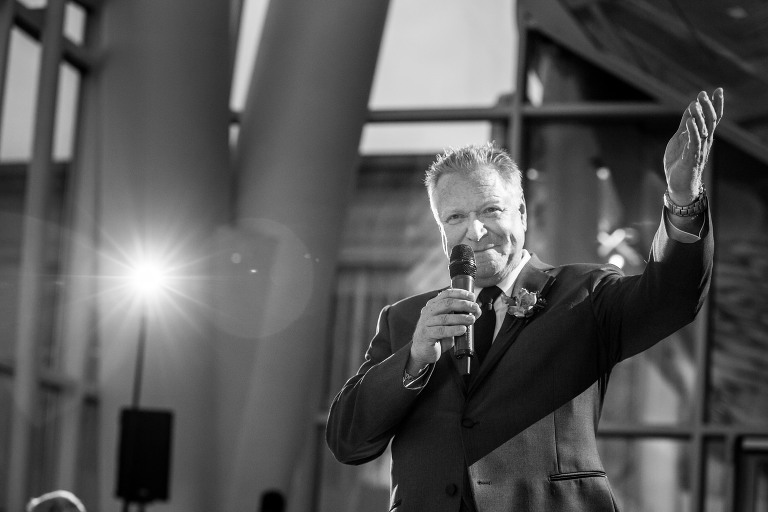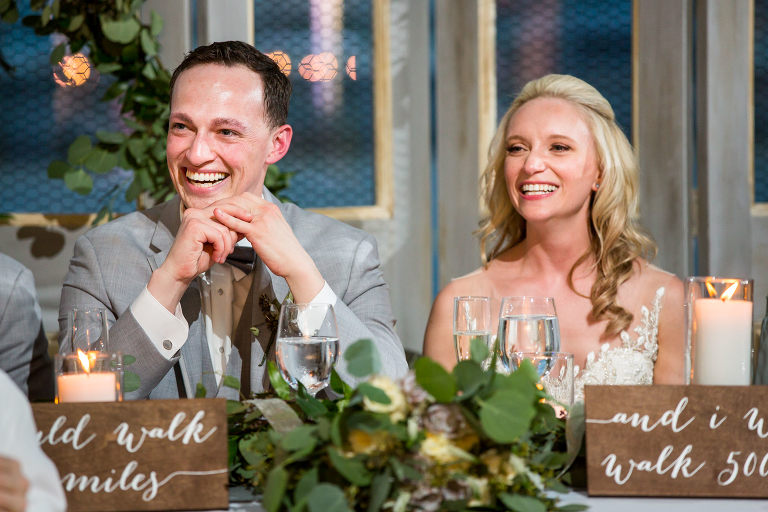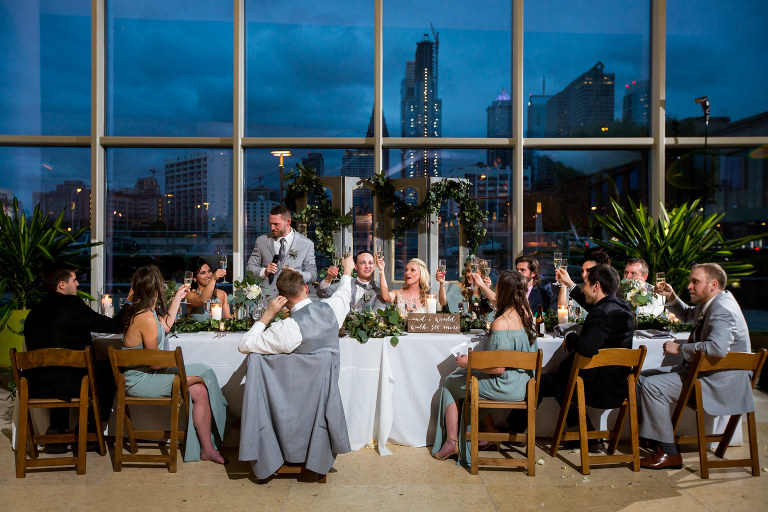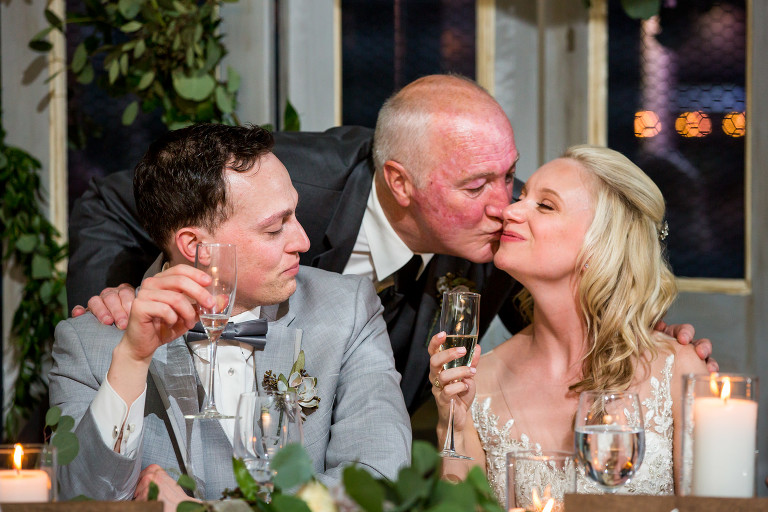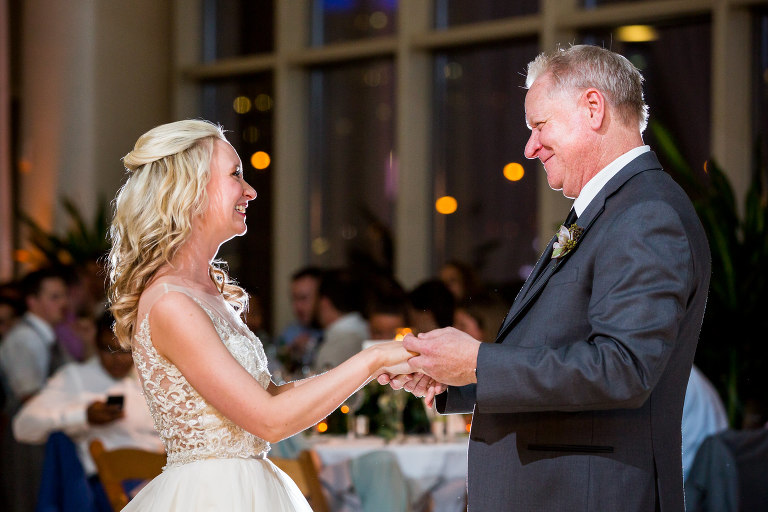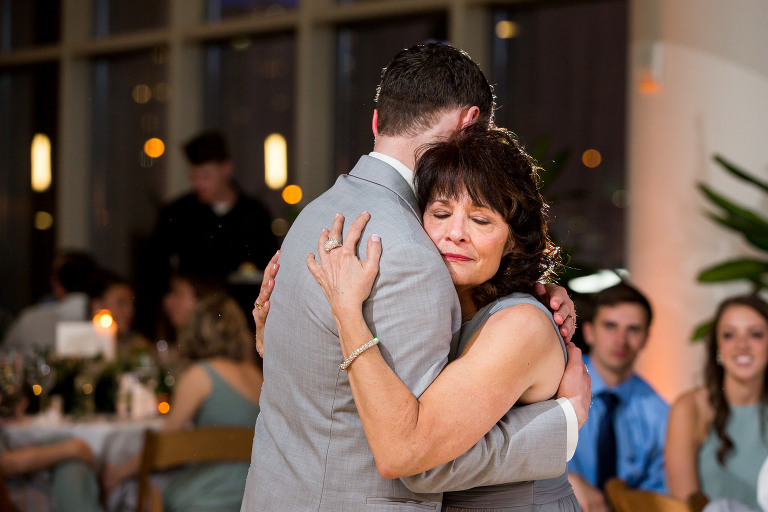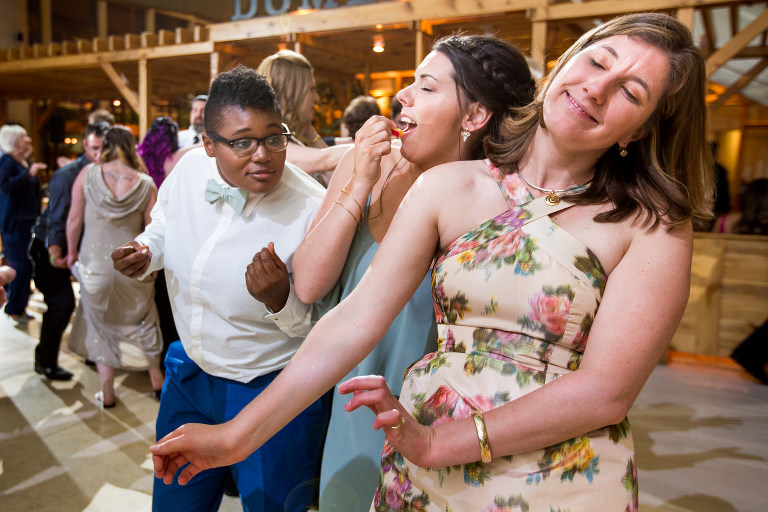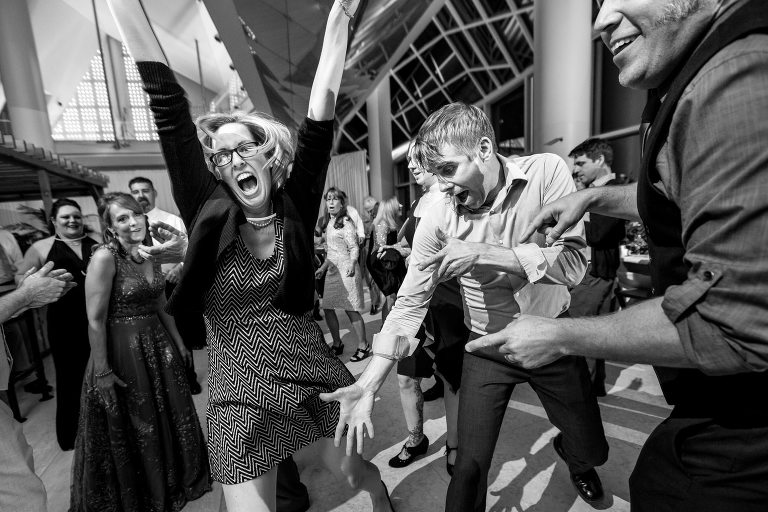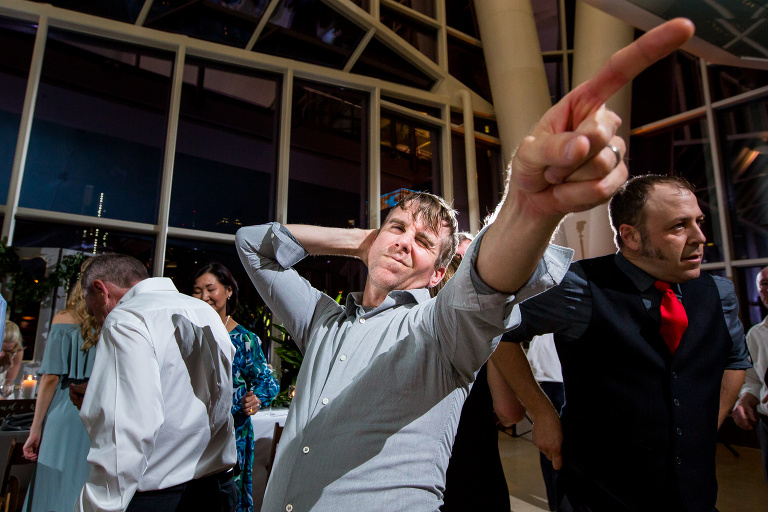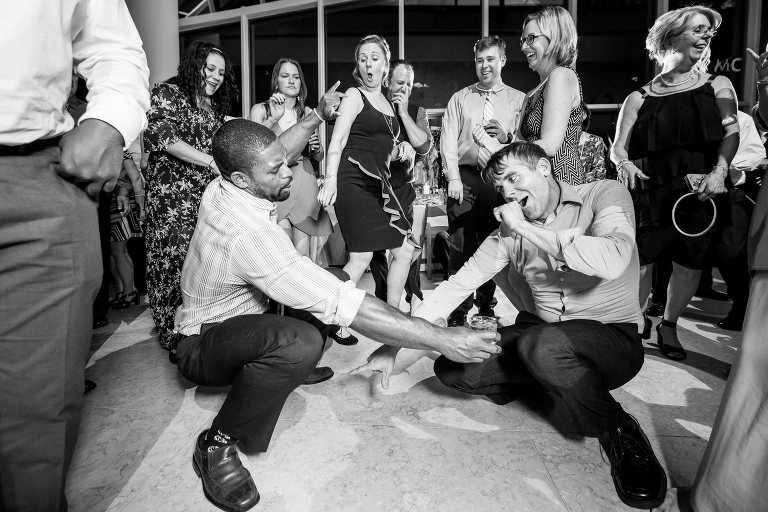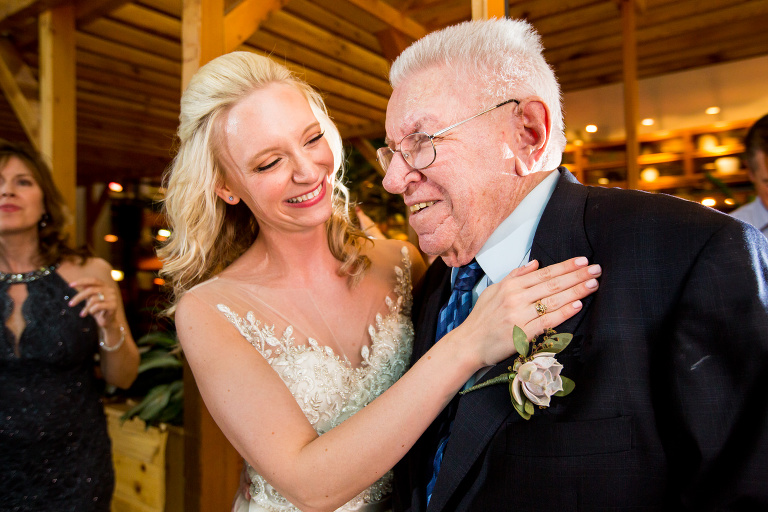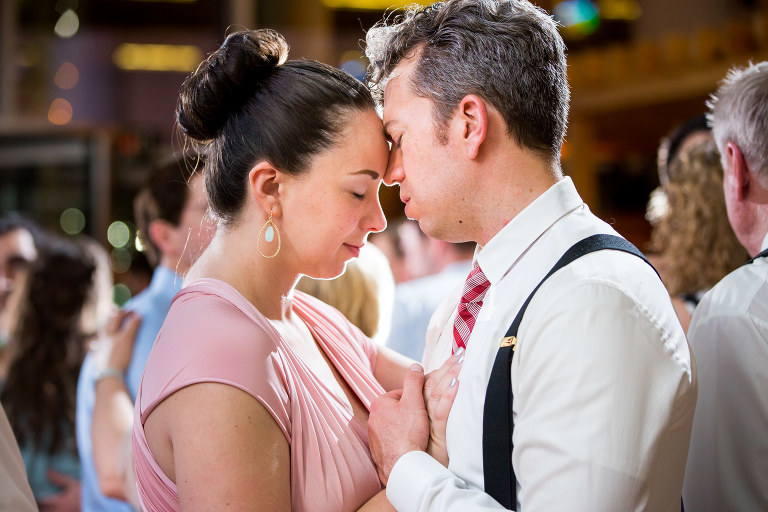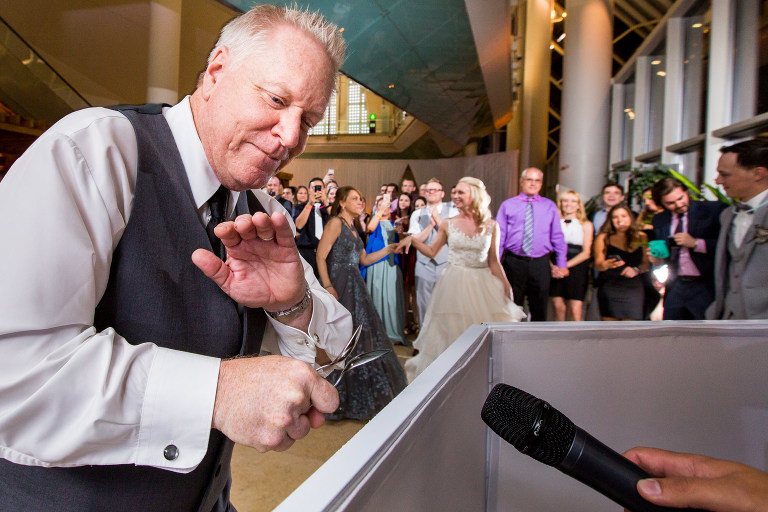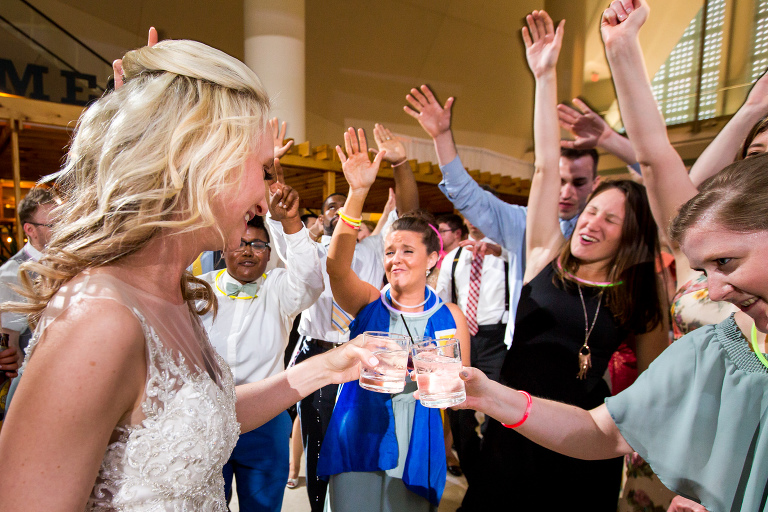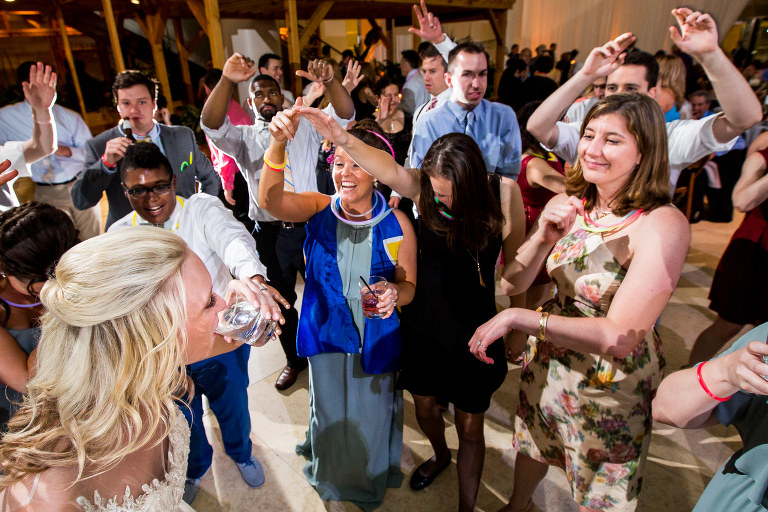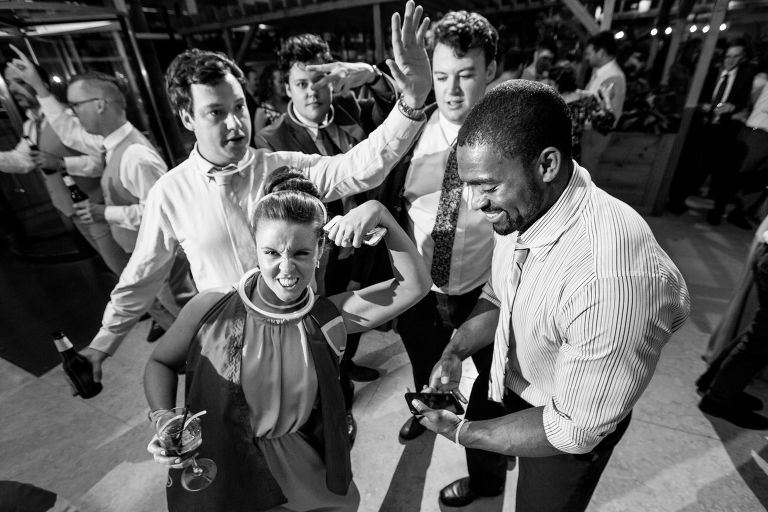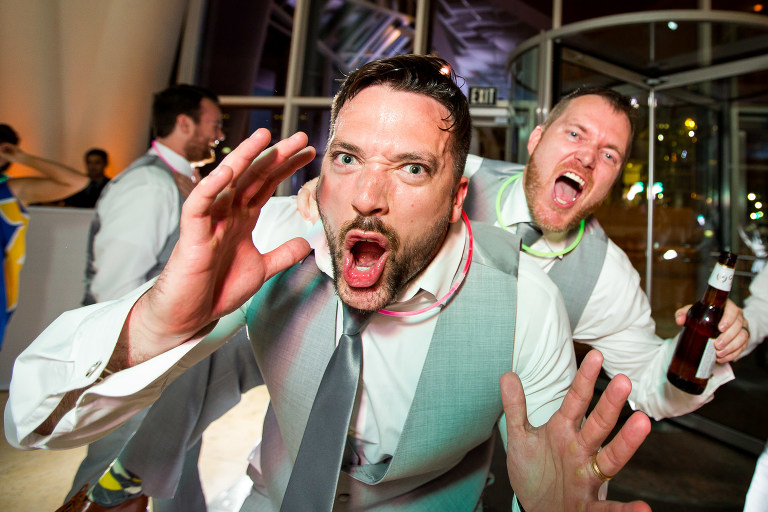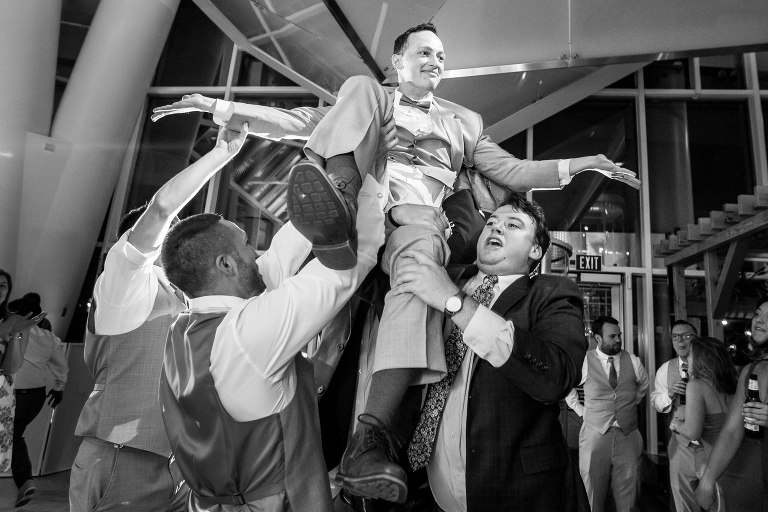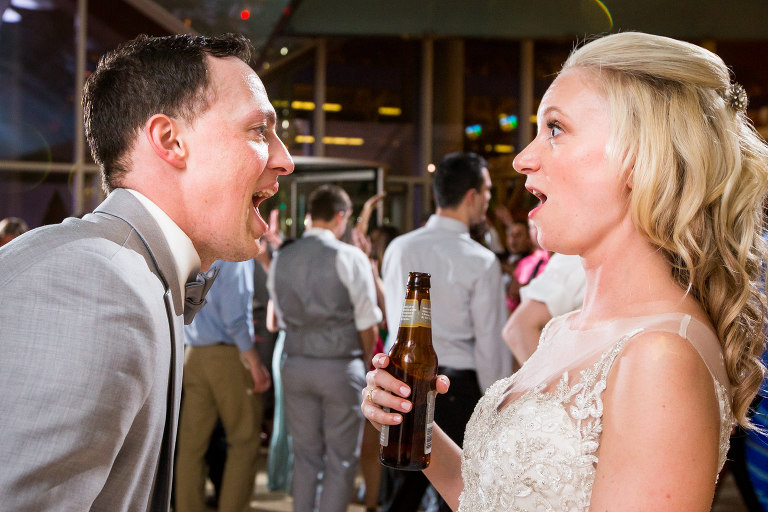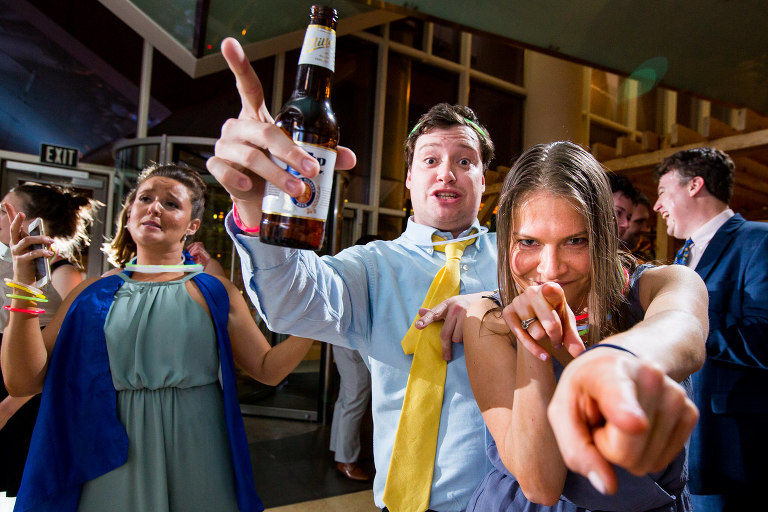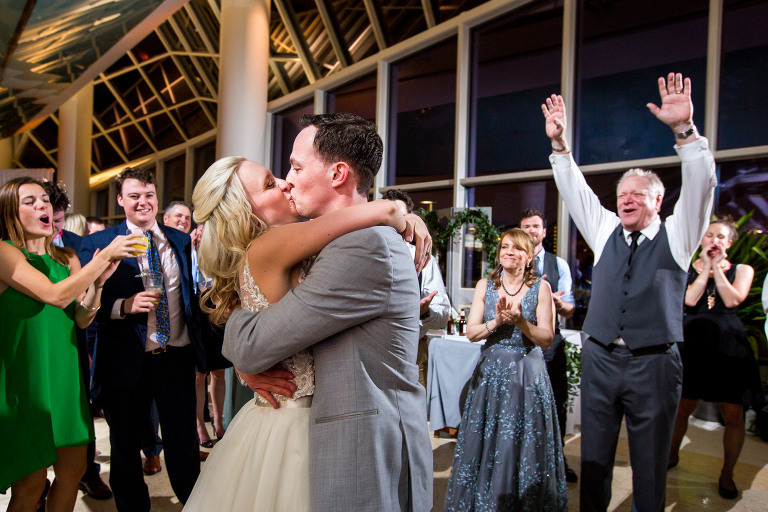 Some of Meghan & Dave's other fabulous wedding vendors include:
Wedding Coordinator: Arielle Fera http://www.arielleferaevents.com/
Wedding Dress: Watters (Jarred Skirt, Dianthus Top),  https://www.watters.com/watters/products/jarred-skirt
Bridesmaids Dresses: Show Me Your MuMu, http://www.showmeyourmumu.com/shop/mumu-wedding/bridesmaids
Tuxedos: Men's Wearhouse (Light Gray Tuxedos), http://www.menswearhouse.com/
Florist: Al's Finishing Touch, http://www.alsfinishingtouch.com/index.html
Cake Artist: Federal Donuts, http://www.federaldonuts.com/
DJ/MC: Center Stage Entertainment (Justin Moreno), http://www.centerstageent.com
Hair Stylist: Gina Fox  http://www.bluelotussalon.com/